Flight Review: Singapore Airlines First Class San Francisco To Seoul
***This is part 4 of my "Big Fat Indian Wedding" trip report detailing a recent trip to Singapore and India***
1. Introduction
2. United Global First Lounge at SFO
3. Singapore Airlines Krisflyer Lounge at SFO
4. Singapore Airlines First Class San Francisco to Seoul
5. Singapore Airlines First Class Seoul to Singapore
6. Conrad Singapore
7. Eating Singapore Part 1 – Flowers, Supertrees, and a River Safari
8. Eating Singapore Part 2 – Hawker Stands, Chili Crab, and Kouign Amanns
9. Dinner At Singapore's Best Restaurant, Restaurant Andre
10. Premier Lounge at SIN, SilkAir Economy Class to Hyderabad
11. Part Hyatt Hyderabad
12. Exploring Hyderabad
13. Etihad Airways Business Class Hyderabad to Abu Dhabi
14. Etihad Premium Lounge at AUH
15. Etihad Airways (Jet Airways Config "Jetihad") First Class Abu Dhabi to San Francisco
_______________________________
When it comes to air travel, there's still one big decision left to make even after you've decided on your origin and destination, and the airline and class of travel you'll be flying.
That decision? Day-time or night-time flights. There's certainly pros and cons of each.
When you're flying West-bound to Asia from the US, you could argue that the night time flights are actually the most efficient and practical option. The flight leaves around midnight, meaning that after you board you'll have a light meal and then pass out for 8-10 hours. If you're lucky, you'll wake up just in time for a couple movies and another light meal before landing in Asia in the morning. It also means that you can even connect to another destination in Asia and arrive in the afternoon or evening that same day.
But then again, when have "efficient" and "practical" ever been words that were used to describe the decision-making process of a Flyertalker?
The biggest benefit of the day-time flights is that you are actually awake during most of the flight, and therefore able to really enjoy the First Class experience. Also, on Singapore Airlines, the timing of the flights means that you'll get the real First Class dining experience rather than the watered-down "supper" service on the night flights.
Lucky for me, I had the option of both the SFO-HKG-SIN night flight or the SFO-ICN-SIN daytime flight. Since I'd taken the night option before, I went for the latter this time around.
After the hour-long delay everything had been sorted out and we were all ready to board the sleek Boeing 777-300ER that would be taking us to Seoul, and then onward to Singapore.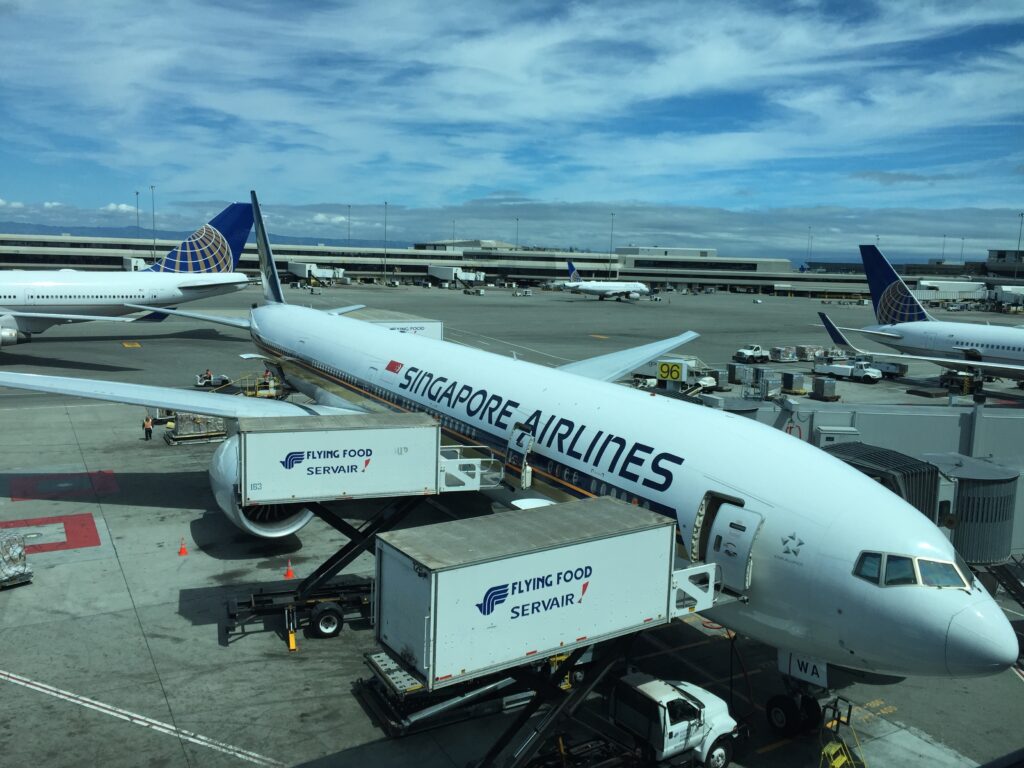 We were the first to board and got settled into the middle seats in row 1. This brought on a bit of nostalgia, as these were the exact same seats on the same type of plane that we had for our very first long-haul First Class flight back in 2012. Since then we've tried dozens of premium cabin products, but I'll always have a soft spot for this particular one.
Singapore Airlines is beginning to refurbish it's First Class cabins, but unfortunately our flight today would feature the old seats.
The seats are about as wide as you'll find on any plane, and even though they are open, still provide a tremendous amount of privacy. It also helped that the cabin was just 3/8 full, and we actually moved back to the 2nd row so that we could an entire row to ourselves.
No complaints about the legroom either, and I'd forgotten how large the television screen was. However, the Krisworld entertainment system was a bit of a letdown, especially after you've been spoiled with the massive selections on other systems like Emirates' ICE.
The crew came by to introduce themselves and started the process of showering us with swag. First up, Bose noise-canceling headphones.
Next up, pajamas. Apparently some folks on Flyertalk were rankled that the pajamas were no longer Givenchy-branded and now simply have "Singapore Airlines" sewn on the tag. Maybe they were planning to wear them on the red carpet at fashion week.
And lastly, Ferragmo-branded amenity kit and toiletries.
While most airlines put their state-of-the-art premium cabin product on larger planes like the Boeing 747 and Airbus A380, it also means that there are usually a lot of passengers on-board. The Boeing 777 with just 8 First Class seats definitely had more of a boutique hotel experience rather than a mega-resort, and in turn that allowed the flight attendant to provide a more personalized experience.
That dynamic was evidenced on our Singapore Suites flight earlier this year, which frankly failed to impress. Today's crew was the complete opposite and while they had an advantage due to the light capacity, they were hands-down the best crew we have ever had on a flight.
Lastly, menus were distributed and even though we had used the Book the Cook feature for all of our meals, in my experience the flight attendants have always tried to accommodate if you'd prefer something on the menu instead. Or in my case, in addition to.
The first page contained the celebrity chef of the month's recommendations.
The flight attendant profusely apologized that there was no smoked duck loaded on today's flight, but instead could offer caviar. That'll do!
And the snack menu, which I always find myself visiting on flights of more than a few hours.
We had also Booked the Cook for our light meal prior to landing, and nothing here stood out as worthy of swapping out.
And the wine and cocktail list for reference – as usual, both Dom and Krug were offered.
And a rather impressive selection of coffee.
The meal got started with some warm candied nuts.
Followed by a nice, large helping of caviar.
I opted for the double boiled oxtail soup which was fantastic. Often times I've found the soups to be among the tastiest components of the First Class dining experience, so make sure not to skip it.
Then a refreshing salad.
And then the main event, my incredibly cheesy Boston Lobster Thermidor.
I was already stuffed at this point, but the finish line was in sight and I couldn't give up just yet. A selection of cheeses and fruits.
I'm glad I made it to the end, since the reward was one of the best desserts I've had, whether on air, land, or sea. A white peach parfait along with a mango sorbet.
Lunch wrapped up about 2 hours after take-off, and the sun was still shining bright over the Pacific Ocean.
Fat and happy, I settled into my seat and fired up a couple of movies. Eventually I decided that I'd try to sleep, even though I knew that I wouldn't be able to. I jumped into the bathroom to freshen up and requested turn down service.
The bathrooms were well-stocked and kept extremely clean throughout the flight.
There was a drawer in the bathroom filled with amenities such as toothbrush and shaving kits.
I returned to my seat and jumped into bed.
As I mentioned above, with day-time flights, while you're awake to enjoy the First Class experience the downside is that for a light-sleeper like myself, you will literally be awake the entire time. So by the time we landed in Seoul, it was around 2AM local time back in the US and I was exhausted.
The food coma didn't help, since I had a "light" meal just before landing that was anything but light. Starting with a refreshing caprese salad.
Followed by a delicious seafood chowder that was much heavier than the soup from my last meal. This could probably serve as a proper lunch on its own.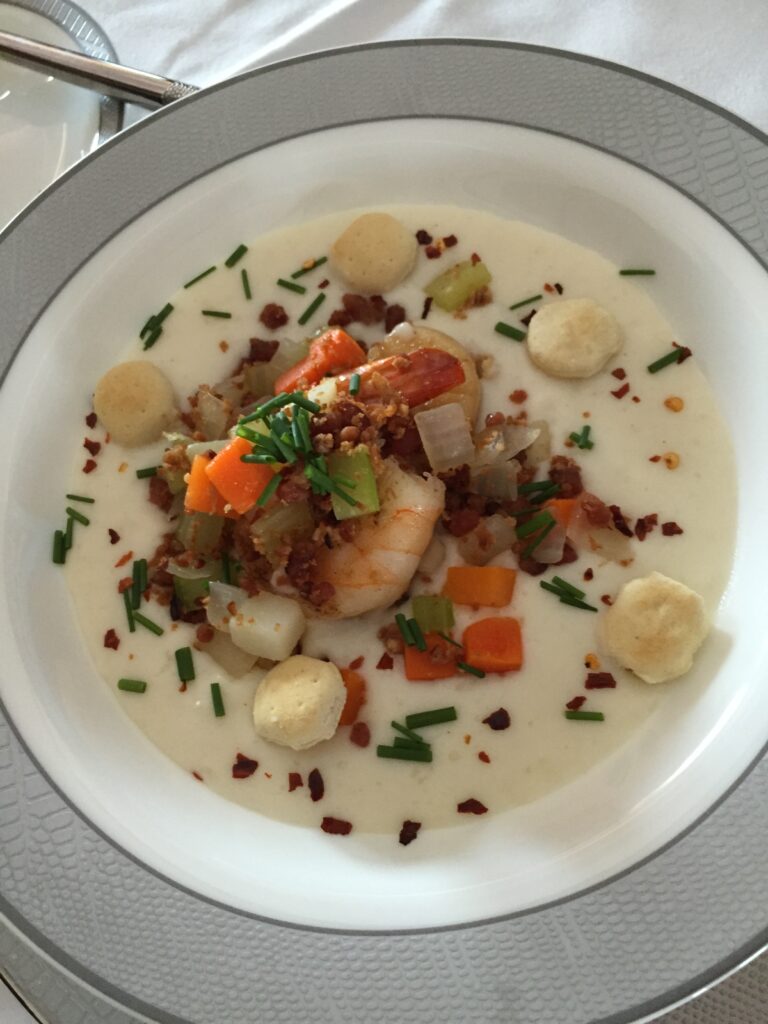 And then the sea bass which was pretty good, although I wasn't a fan of the sauce.
And finally, a completely unnecessary panna cotta with Grand Marnier to put the finishing touches on 12 hours of pure gluttony.
We touched down in Seoul and I was actually looking forward to the 20-minute walk through the airport, if anything, to help me digest in anticipation of more food to come on the next flight.
Overall, this was one of the best flights I've ever had, and the service went above and beyond the levels one can expect from a top-notch airline like Singapore Airlines. This was really the first time that we were simply blown away by the crew, who made our flight so incredible enjoyable, so a big thanks to them once again!