Flight Review: China Airlines Premium Business Class, San Francisco to Taipei (and Back)
Two weeks ago, I took a short trip to visit family in Taiwan.  Award availability was wide open, so I snatched a round trip with China Airlines in its Premium Business Class.  The booking cost me 160,000 Delta miles and $115 in fees, in addition to $66 of excise tax to transfer some Amex MR points to Delta.
China Airline's daily service from SFO to TPE departs at 1am and lands at 6am the following day, a 13-hour journey.  The return trip is two hours shorter departing at 11:40pm Taipei time and landing at 7:40pm San Francisco time.  Both are currently serviced by a 777-300ER, though brand new A350s will take over this route in the near future.
I had a fantastic experience, and this review combines both journeys.
BOARDING
At 1am, China Airline flight #3 was the last of the night to leave SFO's International Terminal A.  I casually strolled to the gate after boarding had begun.  A staff member made a leap of faith assumption and directed me to the business class entrance.  Considering that I hadn't said anything, flashed my boarding pass, or dressed particularly nicely, I was impressed by her confidence in knowing that I shall cut the massive line.

Here we go!
Once aboard, an attendant helped me settle into my fancy seat.  She had just finished a conversation with a nearby passenger in English, began speaking with me in Mandarin, and referred to me by my Chinese last name.  I should note that a lot of Chinese people in the Bay Area don't know their mother tongue well, and it's not always possible to identify one's last name in Chinese with just the English spelling.  Like the previous person, she just met me for the first time but acted as if she knew me well.  I had no idea how they interacted with people so naturally, but that was my first clue at great customer service.
Whereas most premium cabin spaces come with a contemporary or futuristic design with the plastic or metal look, China Airlines is quite unique with its faux wood patterns.  I'm no fan of wood trims in luxury cars, but loved the warmness of this look.  In fact, I was so intrigued by this design that I chose China Airlines over its more widely known alternative (Eva).

China Airlines Premium Business Class cabin

Premium Business Class seats

My seat at 22A, in the rear business cabin;
On the way home I sat at 14A, in the front business cabin.
You can't tell from this picture, but the head rest was uncomfortably low.  I'm 5'11", taller than most Asians but not by that much, and found the head rest pushing against my shoulder blades the entire flight.  That was my only complaint of the experience.

Two wood-colored covers opened up to storage compartments

These compartments were helpful for storing my devices and excess snacks.
The one on the right came with AC and USB outlets, as well as a physical media controller.

These slippers were quite soft and comfortable.  They are now my favorite slippers at home.

The exterior arm rest opened up to a water bottle and an amenity kit.

The hard amenity case contained Institut Karite Paris and Moroccanoil goodies.

China Airlines Premium Business Class with ambient lights.
DINING
Each of my flights had a midnight departure (1:00 am from SFO and 11:40 pm from TPE), and a four-course meal was served immediately upon take off.  Having just indulged in the lounge after having a proper dinner at home, I wasn't hungry at all.  However, of course, it'd be sacrilegious to give up a fine dining experience high above the Pacific.  I fought hard to stay awake.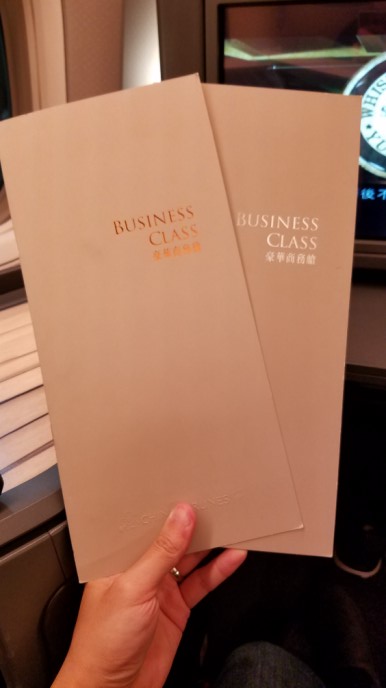 Bilingual food and drink menus.
Each meal came with eastern and western cuisine options.  I asked the flight attendants for recommendation, who deferred to the chef's special on each flight.  On the outbound, it was a (mostly) Asian dinner.

Lobster salad and beets.
I was highly amused by the amount of utensils provided.

Chicken and abalone soup.  Best part of the meal and it came with a whole abalone.
Note that this course came with its own utensil (spoon).

Chicken & pickle noodles.
Note that this course also came with its own utensil (chopsticks).

Dessert: ice cream and oolong tea.
I had a choice here between the plastic spoon inside the ice cream container, and yet another piece of silverware provided by the flight attendant.  XD
The dinner on the return flight was a fusion cuisine with more American/French elements.

Foie gras with red wine poached pear and candied kumquat.
I wasn't a particular fan with these things, but they were an explosion of fascinating flavors.

Chicken soup with date and ginger.

Grilled halibut, jade rice, and an assortment of veggies.  The fish was on the salty side.

For dessert I stuck with ice cream, but this round also came with fruits and cheese.
"Breakfast" on both flights were served about 90 minutes prior to arrival.  On the outbound, this meant eating at the same time as Taipei's earliest risers.  On the return flight, the meal took place when Californians left work for happy hour.  I chose the eastern option on the first flight…

Taiwanese-styled congee and small dishes, as well as a fruit bowl.
… and the western option on the second flight:

Omelet, croissant, and a bunch of other things.
SERVICE
The attendants on both flights were warm and genuinely friendly, but the first crew went especially above and beyond to make me feel at home.  A few notable memories:
1) Because I was fascinated by the number of utensils that came with the first meal, I took my sweet time arranging them on the tray for the picture above.  The purser (older lady) walked by with a big smile on her face, and informed me that the bread was best enjoyed while warm.  The American in me was taken aback a little by the unsolicited nosiness, but I was also conscious of how Asian cultures regard it highly to show care and kindness on the personal level.  Her being a naggy auntie for a second triggered a sentiment of homesickness in me, and I was appreciative.
2) As soon as I swallowed the last spoonful of ice cream, I flattened my seat into a bed and passed out.  My entertainment system was a bit funky, and its screen randomly turned itself on every once in a while.  I turned it off twice while half awake, though honestly it didn't bother me much (my face was orthogonal to the screen at this point).  When I woke up a few hours later, I found a giant blanket covering the screen.  One of the flight attendants must have realized the device's problem and taken the initiative to guarantee me a better sleep by covering it up.

I opened my eyes to this confusing blob.
3) I was given a cup of tea upon waking up.  The attendant had remembered my preference from dinner.  From there, she proactively offered me a new cup every time I finished the last sip.  Each cup came on a tray with two Taiwanese pastries.  It was the most hydrated I've ever been on a plane, and seriously damaging to my waistline.

One of my tea + snack refills.

Another one of my tea + snack refills.
Between the two business class cabins was the Sky Lounge, a gorgeous display of snacks and drinks.

The liquor was what I'd expect of a premium cabin, but the tea selection was quite impressive (reflective of the Taiwanese culture).
The snacks were excessive considering how much I had been fed.

The pastries that came with my tea (I briefly contemplated taking the whole box) and books for anyone inclined to read.

Kavalan, the award-winning single malt whiskey from Taiwan.
ENTERTAINMENT
The entertainment system aboard China Airlines was as one would expect from a world-class airline.  The selection wasn't as massive as Emirates' ICE, but it had plenty to keep most people busy.  When it comes to movies, I judge an airline by its selection of Chinese, Indian, and Korean movies.  I found a decent list of each, including a few on my mental bucket list.  I watched PINK, which a friend recently recommended.

The interface came with Chinese, English, and Japanese options.
It's worth noting here that China Airlines was a Taiwanese company, whose customers appeared to be mainly Taiwanese/Chinese.  Its announcements and publications, understandably, were primarily in Chinese.  As such, I found it odd that the entertainment system was so American-oriented, i.e. the Chinese-language movies were grouped with their Indian, Korean, Japanese, and French counterparts under "International" (as pictured below, and identical via the Chinese-language interface), while the "New", "Family", and "Favourites" options contained exclusively Hollywood flicks.

Bet you didn't know: Life of Pi was a big deal in Taiwan because it was filmed there.
OTHER
I'm not sure where to group this, but I was amused by the window in the lavatory.

Going high above the clouds.
Upon arriving at TPE, I was able to connect to the airport's free wifi before the plane fully arrived at the gate.  It allowed me to contact my family without an international roaming plan.

The giant flag signaled that I had arrived at my intended destination.
Just a few weeks before my flight, Taiwan completed its airport MRT line.  I went downstairs from the arrival hall, hopped on the first train of the morning, and arrived at Taipei's main station in 33 minutes.  From there, a robust network of public transit connected to just about anywhere on the island – and I was home 10 minutes later.  It made my premium trip that much more complete and comfortable.  Better yet, it was running a promotional fare at a 50% discount, so the ride was only 80 NTD (~$2.64 USD).

This felt like the Rolls Royce of subway trains and cost half as much as my daily BART commute.
CONCLUSION
I had read good reviews of the China Airlines Premium Business Class, and the experience beat my expectations in every way (except the head rest).  The hard and soft products were both awesome, possibly at a higher standard than some other airline's first class.  I especially loved the warm and friendly service, and would not hesitate to fly with them again.