Flight Review: Singapore Airlines Suites Class Los Angeles To Tokyo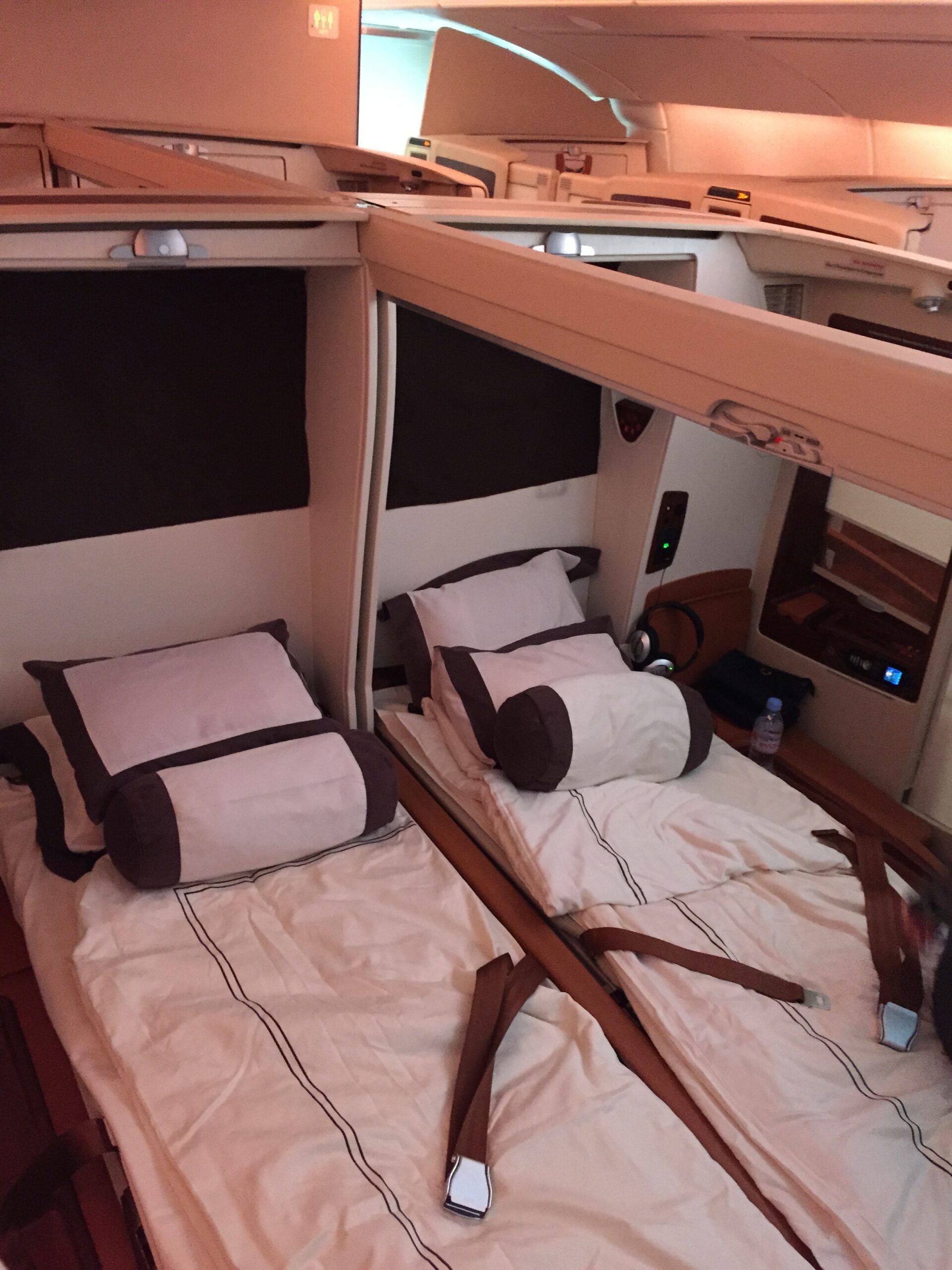 ***This is part 3 of my "Fat and Furious" trip report detailing a recent trip to Japan which included stops in Tokyo, Kyoto, and Matsuyama***
1. Introduction
2. Star Alliance First Class Lounge at LAX
3. Singapore Airlines Suites Class Los Angeles to Tokyo
4. Conrad Tokyo
5. Eating Tokyo Part 1 – Department Store Hopping in Ginza
6. Funaya Ryokan In Matsuyama
7. Living The Onsen Life In Matsuyama
8. The Ritz-Carlton Kyoto
9. Eating Kyoto – The Search for Matcha and Geisha
10. Kaiseki Dinner at 3-Michelin Star Kikunoi Honten
11. The Peninsula Tokyo
12. Eating Tokyo Part 2 – Maids, Robots, and Cosplay
13. Eating Tokyo Part 3 – Cherry Blossoms and THE BEST STEAK EVER
14. ANA Business Class Lounge at NRT
15. ANA Business Class Tokyo to San Jose
_______________________________
Singapore Suites have been around for quite some time and definitely aren't "new" in the same sense that the Etihad Apartments are, for example. But for some reason they remain as one of the most coveted First Class products out there. Perhaps it's the novelty of the double-bed, the mystique of the Singapore Girl, or a mixture of both. Either way, I was about to find out for myself.
I wrote about the process of booking my Singapore Suite Class tickets which was pretty easy at the time to find availability and transfer the miles. Since then, it appears that Singapore has cramped down on award availability and forced more bookings to be wait-listed. So if you want to fly Suites Class, I'd highly recommend booking extremely early on, even if just speculatively. Singapore's award ticket change fees are very reasonable, and range from $0 for simple date changes, $12-$20 for bigger changes, and $30 for complete cancellations.
We were literally the first people to board in an effort to maximize our time on-board and sprinted over to our seats. Our original seats 3C and 3D ended up being inoperable, and we were moved to 2C and 2D at check-in. For couples it definitely makes sense to book the middle seats, since odds are that the cabin won't be full and you'll be able to borrow a window seat for lounging and for catching the views during take-off and landing.
Before we could even sit down, a swarm of flight attendants came by to welcome us and more importantly, showered us with champagne and swag.
I have fond memories of Singapore Airlines, since it was actually the first international First Class flight I ever took. Talk about setting the bar pretty high. From what I could remember, the Givenchy pajamas seemed to have been upgraded from the prior version, and were similar in feel to the high-quality PYE pajamas that Cathay Pacific uses. The amenity kits were Ferragamo-branded and featured full-size perfume and cologne bottles. Lastly, Bose noise canceling headphones were placed at the seat as well.
I wasted no time and ran over to the bathroom to change into my pajamas. Of course, I had to snap the requisite blogger airplane bathroom pajama selfie.
Back to the suite – my impressions? To be honest I'm not sure if I'm crazy about the design. People talk about the ANA First Class cabin as having an industrial feel, and Singapore's largely felt the same to me.  The cabin is a bit like slices of Swiss cheese lined up vertically, which was probably done to keep an "open" feel. In lieu of walls, Singapore uses drapes which must be opened for take-off and landing, and as you can imagine these don't provide as much privacy as a wall.
The seat itself is extremely comfortable and as wide enough as you'll find out there, unlike the Emirates seat which was just too narrow for my liking. Singapore is currently in the process of re-upholstering its suites, but unfortunately ours were the old version.
The seat and IFE buttons were simple enough to figure out, and interestingly when the seat is flipped into bed mode, I believe that there are was a duplicate set of each button when the suite is re-configured. Or maybe it just seemed that way, and after too much champagne my mind was playing tricks on me.
About an hour after take-off it was time to eat! From the moment I left the house I was determined to eat as much Japanese food as humanly possible over the next couple weeks. So as much as I enjoy Lobster Thermidor and filet mignon, I purposely didn't Book The Cook in order to try the Japanese Kaiseki option. As I was perusing trip reports in anticipation of my flight, I had noticed that the vast majority of trip reporters had opted for the Western cuisine.
My eyes lit up when I got to the snack section of the menu – normally there's just a handful of options, but this was an impressive selection to say the least. Given the timing of the flight (3:20pm departure) and the duration (~10 hours), I had a feeling that I wouldn't be able to sleep, and that my stomach would eventually take be back here and made a mental note to try the Randy's Donuts.
Here's the full menu and wine list below:
First, some Dom and warm nuts to kick things off.
In addition to the Kaiseki menu, I also added an order of caviar. Caviar is one of those things that I know is expensive and am going to eat every time it's offered, but can't say that I particularly enjoy.
Now it was time to really get started – a mixture of appetizers which included squid, claims, sweet shrimp tartare, and salmon. At this point I was only half paying attention to the meal while watching the HBO show The Jinx and mistook the big green blob of wasabi for sea urchin. One huge bite later, I realized that I had made a BIG MISTAKE.
Next up, chilled green tea noodles with baby octopus. This one was a throwaway for me, since I prefer my noodles how I like my coffee – with cream and sugar.
And then braised beef with potato puree. YES, absolutely delicious. I'll eat anything that has "braised" in front of it.
And the last savory course – miso-marinated halibut and grilled chicken. After my wasabi incident, I made sure to hit pause just as Robert Durst was chopping up another dead body, and double-checked the menu to see what the yellow ball was at the bottom of the plate. Turned out to be mashed egg yolk, which I in turn re-mashed into my bowl of rice.
Only disappointing part of the meal was dessert, which was a ginger-flavored red bean cake. Not because it wasn't tasty, but I've just been conditioned to finish off an airplane meal with some combination of buttery baked cake and ice cream. I made a mental note to make-up the lost calories later on.
Starting with a cheese plate to finish things off.
After dinner we both asked to have our beds made, and wandered around the front of the plane while that was being done. We stood by the velvet rope and pretended to be bouncers at some fancy underground club.
Unlike most of the First Class seats out there where you simply recline the seat and slap some bedding on, the Singapore Airlines suite literally gets transformed. First of all, the partition between the two passengers is removed. Then, a murphy bed of sorts is flipped down from the wall behind the seat. What you're left with is one of the best looking and most comfortable beds you can find on a plane.
In "bed" mode, the AV panel is now along the wall at the back of the suite, and a nightstand is formed at bed-level which is pretty cool.
We closed the drapes and shut the doors to maximize privacy.
But not before having some fun taking pictures. Hey, how often do you get to sleep in a double-bed at 40,000 feet? But just to clarify, this isn't truly a double-bed, it's still just two parallel beds that aren't actually connected. In fact, you can't really sleep in the middle since the hard partition can be felt and would immediately send you to the chiropractor if you tried it.
Because of the relatively short flight time I opted not to take a Benadryl, and without it, I simply can't sleep on the plane. I rolled around for 30 minutes just to give it a shot, but snoozing wasn't going to happen today. One of the draw-backs of the Singapore "bed" mode is that it's not very comfortable for lounging, and you can't just sit up by increasing the incline of the seat. Luckily the cabin load was just 6/12 and I made my way over to seat 2F.
First order of business, ordering those donuts. Thumbs up for the Randy's Donuts over the Krispy Kreme ones.
While I fully admit that I've watched more movies and TV shows than the average person, the IFE selection was pretty mediocre. The only interesting movie I found was Wild with Reese Witherspoon, but luckily had self-catered my own entertainment and jumped back into The Jinx. Before I knew it, we were about an hour and half out from Tokyo and it was time to eat again.
I opted for the Japanese choice once more, which started with a mixture of clam, Japanese omelet, and gluten with miso. For someone that used to be gluten-free and had friends that would jokingly threaten to poison my food with gluten, this gave me a good chuckle that I was now ingesting pure gluten voluntarily.
And then grilled beef in sesame sauce along with grilled sea bream, which were both on the dry side. My wife just ended up ordering from the snack menu, and her bowl of noodles and Cuban sandwich looked much more appealing.
And the final descent into Tokyo – I jumped back in Seat 2F to catch the night time views.
Narita was completely empty when we arrived, and I took one last look at the gorgeous Singapore whale jet before starting the long walk to immigration.
I'd say that overall we had a really, really good flight aboard Singapore Suites. But perhaps my expectations were just too high or the hype had gotten into my head, because to be perfectly honest nothing about this flight really stood out above all other First Class products. That may not be the description that helps my review go viral, but that's the truth and I'm sticking to it.