Dining Review: Lazy Bear, San Francisco
Last month, I joined 5 of my friends and 34 other strangers for a huge 40-person dinner party at Lazy Bear in San Francisco, CA. Lazy Bear initially started as a pop-up kitchen concept, and leveraged its early success into a one of the hippest new restaurants in San Francisco's Mission District.
Lazy Bear does things a little bit differently than other traditional restaurants. First, they use a ticket system, meaning that you can't just walk-in any night and eat there. You have to buy a ticket for a specific date and time, like you'd do for a flight.
Secondly, Lazy Bear is all about having fun. The experience starts with drinks and snacks in the upstairs lounge, where you can mingle together with other guests. The next stage of the meal is a 6-course dinner, and even though most people come in small groups with their friends, everyone is seated at one of two long community tables. The entire dining room is served each course at the same time, and one of the chefs announces each dish with a detailed description of the ingredients and cooking method.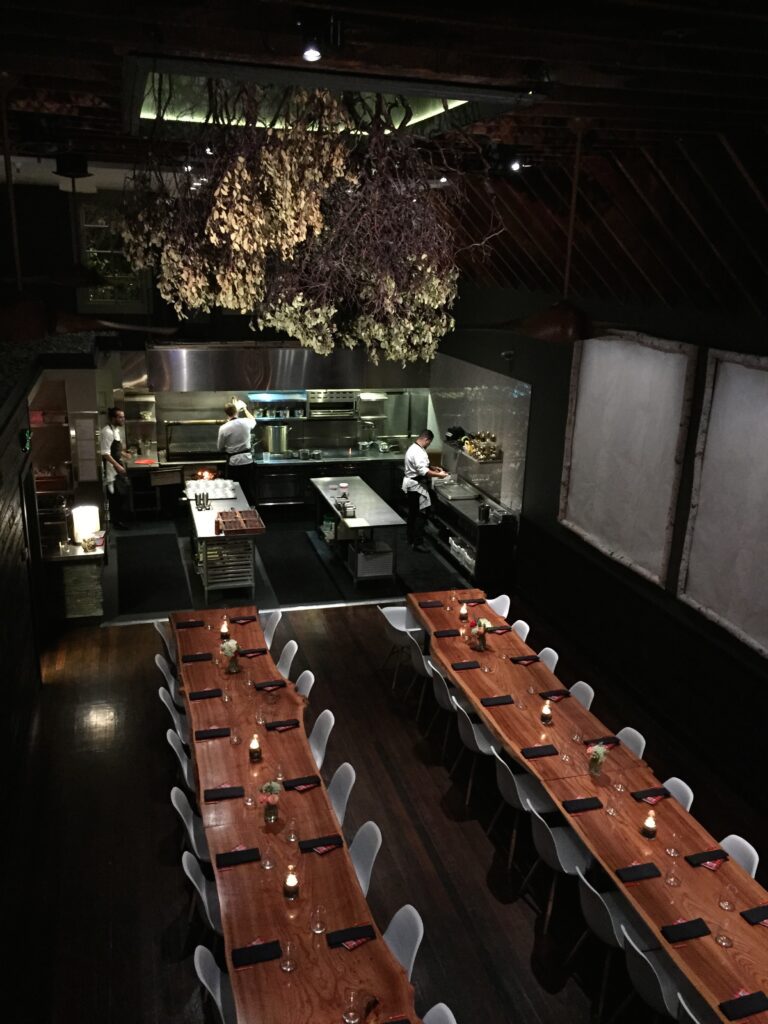 But let's go back to the beginning. We had tickets for the earlier seating of the night at 6pm, and hung out in the upstairs lounge for about an hour. Over the course of that hour, 5 rounds of drinks and snacks were brought around. I thought that it was a cool concept to have the meal broken into two parts, and really made it feel like a casual dining party at a friend's house, rather than a stuffy, fancy fine dining experience.
The snacks started with a shot of whipped egg with hot sauce, and a trio of duck.
Next up was some delicious warm cider with bourbon, cheers!
After a palate cleanser of milk gelato with olive oil, the last of the appetizers, and by far my favorite, came out. An absolutely delicious abalone chowder with fresh chunks of abalone from Monterey Bay.
During the appetizer hour you can order additional drinks from the bar, and you also have a chance to peruse the two drink pairings available during dinner. We went with the Mixed Drink Pairing since it was a good mix of beer, wine, and cocktails.
Around 7PM, each group was led downstairs individually to the dining room and shown to their assigned seats. There was a cool menu in the form of a booklet with each of the dishes, along with a pencil to jot down notes. Each pencil had a different slogan printed on it.
The meal started with the most buttery, fresh brioche bread, with extra butter to spread on top. The chef that described this dish talked about how much pride the restaurant takes in its butter, which apparently has been living and growing for the past two years. The meal continued with a couple delicious seafood dishes.
Throughout the meal, we were constantly encouraged to walk-up to the kitchen and interact with the chefs. We made our way up as they put together the crab dish and watched them in action.
And to cap off the savory dishes, two red-meat dishes, squab and short ribs.
And lastly, 3 sweet dishes to cap off the meal.
Overall, this is definitely one of the most fun experiences I've had at a fine dining restaurant, as it really does feel like you're just at a friend's dinner party. But, to be perfectly honest, I walked away somewhat unsatisfied with the meal. The food was cooked perfectly and was really tasty, but the dishes were just too delicate and bite-sized.
A perfect example was the beef short ribs dish, which was supposed to be the main entree. My portion literally had two little pieces of meat that I polished off in one bite. I joked that on the way home, I'd probably need to stop at a taqueria or the bacon-wrapped hot dog cart.
It will be interesting to see how the restaurant does over time as the novelty of the concept and the ticketing system wears off. As for me, I won't be returning until they "beef-up" their portions.